A relatively quiet week of Star Wars gaming has come to a close, but it closed with a BANG! FFG dropped a whole new game before their GenCon event next week!

Tabletop Games
First things first, though. At the beginning of the week, we were given a glimpse at the Mandalorian Protectorate Starfighter, which provides another fast option for the Scum faction. It has all the maneuverability of the TIE Interceptor and TIE/fo, but it comes with features that encourage players to attack head-on instead of swerving out of the opponent's firing arcs.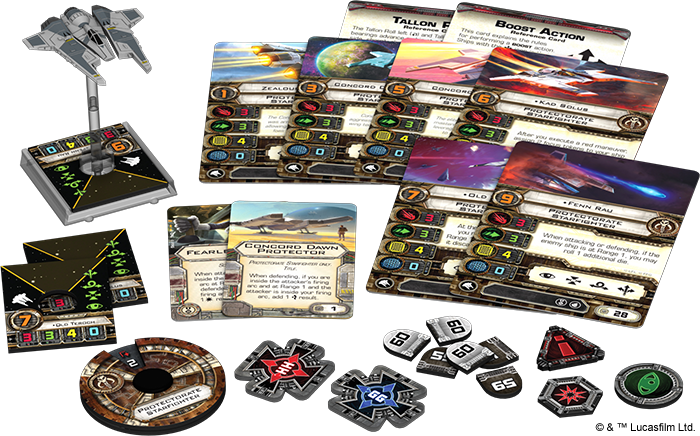 The Concord Dawn Protector title is one of the coolest parts so far, because it provides an extra Evade when inside of the opponent's Range 1 firing distance, completely negating, not just potentially negating, their extra Attack die.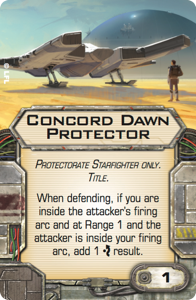 We also got a preview of one of the premade characters from the upcoming Star Wars The Force Awakens Roleplaying Game Beginner Game! They've said that unlike the other Beginner Games there will not be a forthcoming hardcover release or new line of TFA supplements per se, but this box will draw from all three lines that have already been released.
In this preview we meet Mhar'Li, a Human Ace, born not long after the events of Return of the Jedi. If you've never played an RPG before but you want to live like Poe Dameron for a few hours, this looks like it'll be a good bet!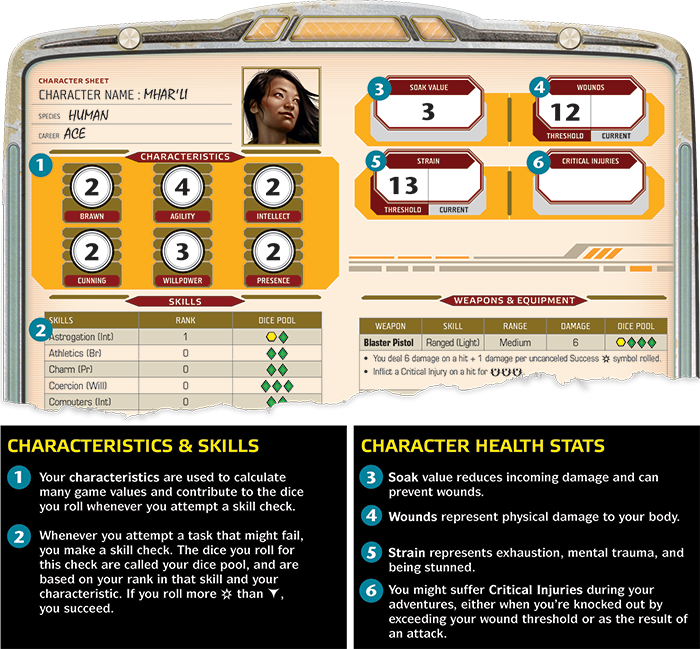 The biggest news from FFG this week came in a VERY unexpected form! Just released Friday was the first look at their new collectible card and dice game, Star Wars Destiny. Like CCG's of a bygone age, you first buy a start set that gives you enough cards to get started, including enough dice, and then you buy booster packs following that.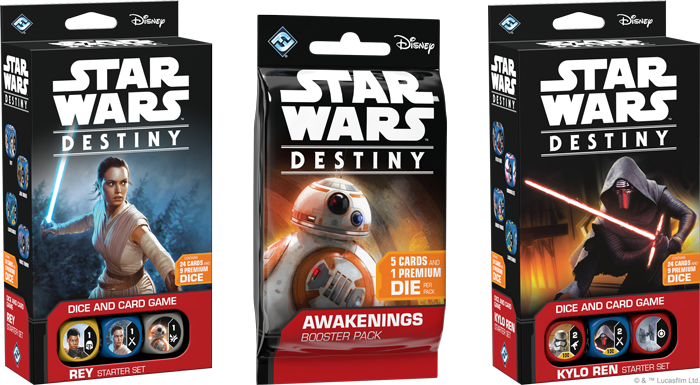 Two of the things that really standout already are the expectedly high standard of quality from both the art and the dice, and the fact that it's the first FFG product to be inclusive of every canonical era of the saga. The Living Card Game has come the closest, but even then, it stays within a few years of the original trilogy. This is the first tabletop game since the Wizards of the Coast miniatures game that pushes you to mix up the characters from the originals, the prequels, and the sequels. I'd assume the TV shows are also included, but they haven't explicitly said yet.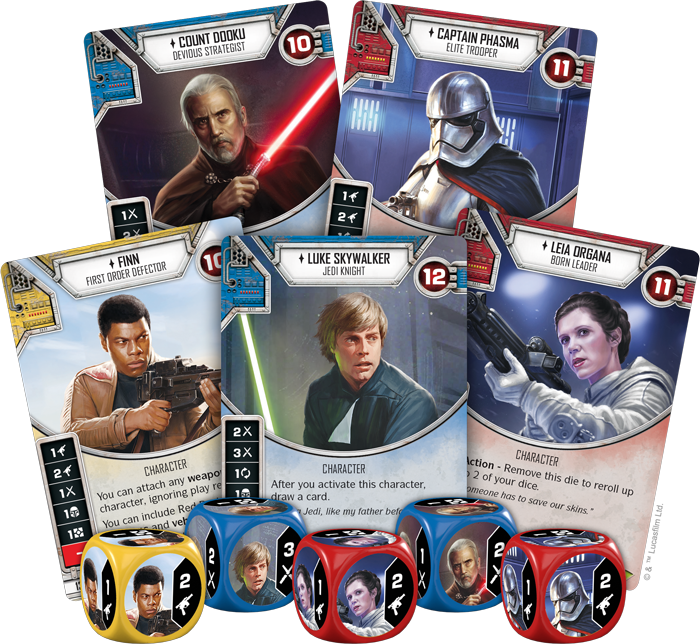 It goes completely without saying, but the art is, of course, beautiful. Some of the images they've shown us have been used before in their other products, but that's okay, really. It's rare to find a bad piece of FFG Star Wars art. Now, though, we're getting to see characters in this great format that we haven't seen before, including Rey, Finn, Count Dooku, and Qui-Gon Jinn!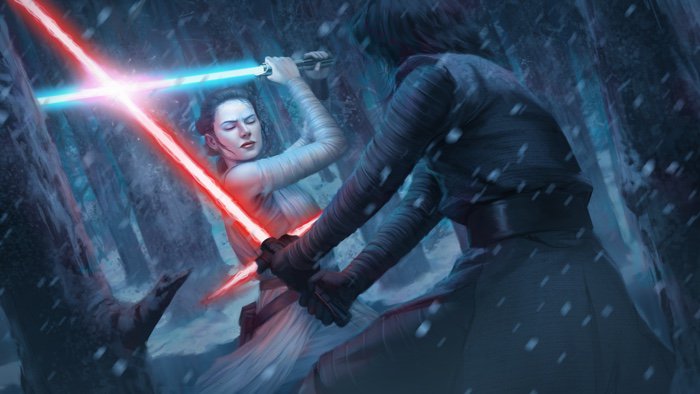 On an editorial note, I wasn't that taken with the idea immediately, but after reading more, looking at all the parts again, and rewatching the teaser video, I'm starting to warm up to it. The areas that concerned me were the collectible aspect and the dice. The dice are a big departure from what we've seen from FFG over the past few years. Even though all those dice use different symbols for different systems, they have an overall uniformity to them. These are very different with character images that look like full art pieces that have been cut down and, at first glance, seem to be stickers on dice. That's not the case, however, as these art decals are heated onto the dice, essentially cooking the image onto it, and then has a protective layer over that to keep your dice clean and shiny for a long while. I love the FFG art featured on the cards, but the card design and layout leave me a little worried. For some reason it gives me flashbacks to Young Jedi from Decipher, a more all-ages friendly card game. Getting past that, though, collecting Star Wars cards is always fun, and if the mechanics are enjoyable, I think they have another hit on their hands.
Video Games
While we didn't get any huge news from EA this week, we did get a trailer for The Old Republic's final chapter of Knights of the Fallen Empire, officially releasing August 11th. I'm really excited to see how this plays out, as KotFE has been one of my favorite Star Wars video game experiences in a very long time. I'm also looking forward to see what kind of setup we get for Knights of the Eternal Throne.
On the Battlefront side, no news or previews here, but they did put up some fun fan-made machinima videos over at starwars.ea.com. Considering how locked down a game BF is compared to other FPS titles, it's pretty impressive what they've managed to whip up. They can all be found by following the link above, but here is just one of them: